Duncan Harris at makes the best organic dessert wines, fortified wines and organic ports in Australia.

Buy organic dessert wine online

Liqueur Muscat Wine - Australia
Australian Muscat dessert wine

Late picked organic muscat grapes (Muscat a petits grains) from our organic vineyard was crushed, de-stemmed and fermented with our natural yeast until the sugar level was at the appropriate level.

Australian fortified wine
Only in Australia do we have muscat with a red coloured skin to produce Australian fortified wines. This fine example is called Australian liqueur muscat.
After basket pressing and transferred to an open fermenter, the ferment continued at 20-25C. Once the ferment had slowed, the wine was fortified, racked and stored in oak barriques with a little yeast lees and cellared underground for maturation. After a minimum of fifteen years the wine was bottled. It is not clarified or filtered. A unique and a truly organic fortified sweet liqueur muscat wine. One of the best liqueur muscat in Australia.
Good Food and Wine Good Food Guide
Voted into the top 25 wines of WA
This is what the judges said:
Liqueur Muscat - Potent, decadent, rich, unctuous muscat of intensity, concentration and depth. All liquified dried fruits, nuts, caramel, toast. Feels like some judiciously old material in the mix with good clean spirit backing up all that intensity. Huge authority here – big presence in glass and palate. Done well. A landmark WA example.

Go to the Online dessert wine shop and buy sweet wines while stocks last.
Grand Liqueur Tokay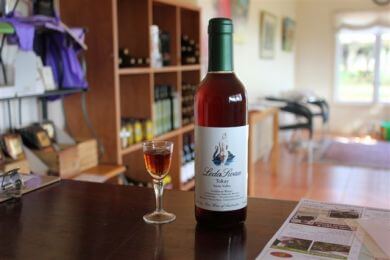 Harris Organic Liqueur Tokay is an organic fortified dessert wine. Ripe organic Muscadelle grapes were crushed before fermentation began with natural yeasts. The ferment continued from a very high sugar level until the cap of skins lifted. The 'must' was drained and basket pressed before returning to the open fermenter. Once the ferment has slowed the wine was fortified with our organic brandy and pumped to oak barriques with light yeast lees for cellaring underground for maturation. After a minimim of 10 years the sweet dessert wine was bottled. This organic dessert wine has a little preservative and brandy alcohol added to aid it has natural stability. A unique certified organic liqueur sweet dessert wine, available online.

Buy from our Organic Muscat online today.