Tasting notes:
A burnished golden colour with flavours of honey, butterscotch and raisin pudding. This wine has a complex, lingering sweetness that is beautifully balanced. Enjoy with cheeses, dried fruits or with a dessert of your choice, we prefer pancakes and helthy icecream. All are available from our organic wine shop.
Harris Organic Wines was established in the Swan Valley in 1998. We specialise in certified organic fortified made from Pedro Ximenez grapes. We have a range of organic dessert wines from pedro ximenez to liqueur tokay, classic liqueur muscat and liqueur shiraz and vintage port made from shiraz. More information can be found at our blog page about Pedro Ximenez .
You can visit us at the cellar door and buy Pedro Ximenez or shop on-line at our wine shop. We are located in Baskerville on the corner of Memorial Avenue and the Great Northern Highway in the Swan Valley. The Swan Valley is 30km north east of Perth city centre, Western Australia.
Australian Pedro Ximenez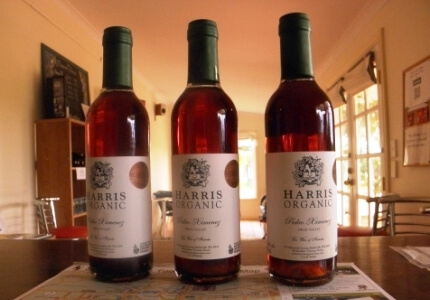 A Spanish grape variety Pedro Ximenez does exceptionally well in the vine-growing region of the Swan Valley. This award winning organic wine began existence as grapes that were hand thinned at the green berry stage so that the vine can sun-ripen its remaining grapes to raisins of very high sugar levels, without irrigation.

Pedro Ximenez is available in 375 mL bottles and in bulk cubes. Buy their beautiful fortified style wines from their Wine Shop today.
Pedro Ximenez wine-making
Fortified Pedro Ximenez wine-making
Very ripe organic grapes are crushed, de-stemmed prior to being pumped to the ferment tank. The ferment starts with natural yeasts and continues at 20C until the ferment has proceeded through about 3 Be'.

The skins are drained and basket pressed, the juice returned to an open fermenter under the verandah. The ferment continues at 25C until the wine-maker determines it is the correct time to fortify the wine with his organic brandy spirit. Once the ferment has stopped the wine is pumped to oak hogsheads for underground cellaring and maturation. After four summers the wine is bottled and sealed with natural cork.

This wine has alcohol added and is about 17% alcohol. Some preservatives in the way of sulphites are added. It is clarified and filtered prior to bottling. Harris recommends to consume within one month after opening.

Alcohol - 17% pH 3.9, Residual Sugar - 12+ Baume Total sulphides SO2, less than 100 ppm.

The hand picked raisins produces a luscious dessert wine in a PX sherry style. This luscious sweet dessert one of the best wines in Perth Western Australia's Swan wine district.
Buy from the Wine Shop today the beautiful Pedro Ximenez, you will be impressed.