Wine Tasting and Sales
We love what we do and enjoy you tasting our wines.
Opening Times
Monday 11:00am - 4:30pm
Tuesday and Wednesday by appointment
Thursday 11:00am - 4:30pm
Friday 11:00am - 4:30pm
Saturday 11:00am - 4:30pm
Sunday 11:00am - 4:30pm

We are closed Christmas Day, Boxing Day and Easter Friday.
Tasting Organic Wines
We are at the top of the Swan Valley, on the corner of Memorial Avenue and Great Northern Highway, Baskerville.
We are always happy to receive visitors to our cellar door. We have a $10.00 per person wine tasting charge which is refundable upon organic wine purchase. This is because we make very small quantities of wine, although the quality of our wines is well worth the visit. Wine tasting is free to members of our wine club.
Harris Organic values responsible driving, dont drink and drive.
Please find a copy of our tasting list. Have a look at the ten commandments of wine tasting.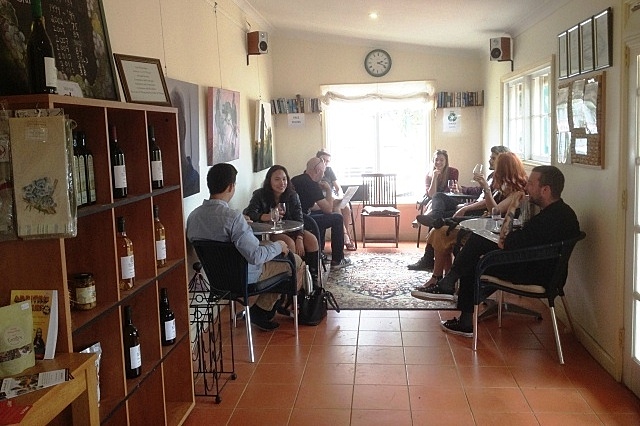 Group Wine Tour Tastings
For group tastings and tours of more than 8 people, an appointment is necessary. They are conducted in our cellar door by the winemaker, Duncan, and include a tour of the cellar and a taste of 5 of our organic wines.

There are two sessions available per day. At 10.00am and 11.00am, group tours and tasting are $15 per person, with $10 refundable per purchase of wine per person. There are no tours available in the afternoons.

Please allow 55 minutes for your tour and tasting and be aware that patrons arriving more than 15 minutes after the time of the appointment may find their tour cancelled. If you are running late, please call us to let us know so we can re-schedule your tour.