Organic Pedro Ximenez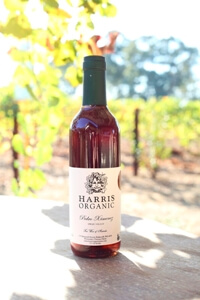 This wine has a chestnet golden colour with flavours of honey and butter-scotch. This unique wine has a sweet but deeply complex finish that is beautifully balanced.
Its alcohol fortification is from the stills at Harris Organic - and thus it is an organic fortified wine, unique to Australia. The alcohol content is 18.5% and is 2008 vintage.
"This unique and exquisite organic wine is a favourite served as an aperitif or with desserts". Suggested foods - try this with a cheese platter or even a dessert of your choice, or perhaps, pancakes, waffles and icecream.

Go to the Wine Shop and buy now.