Vintage Shiraz - Bronze Medal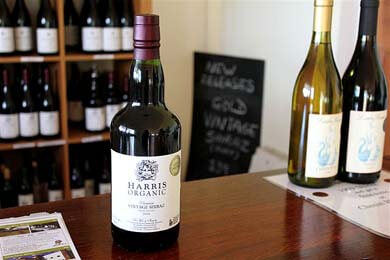 Only a small amount of this unique organic vintage port is made each year. This 2016 Shiraz Fortified Vintage Port has a Silver Medal from the Swan Valley wineshow. Fully ripened dry-grown organic Shiraz was hand picked at 19 Baume (a level of sugar) from our organic vineyard on the 6th March 2016. After hand picking and grape crushing, the ferment was started with natural yeasts and continued until the ferment proceeded through 10 Baume. Then the must was drained, basket pressed and returned to an open fermenter. Once the sugar was a desirable level the wine was fortified with certified organic neutral brandy spirit to stop the ferment. The wine was matured by underground cellaring in oak barriques. After 12 months in American oak the wine was bottled and stoppered with natural cork. The alcohol is 18.5% and the residual sugar about 70g/L.

Dense and bright crimson in colour with a beautiful bouquet of black fruits and spice. The palate is rich, with smooth tannins and intense flavours of mulberry, blackberry and licorice and perfectly balanced. The finish is long and persistent with the fine organic brandy spirit being well integrated.
Enjoy now or cellar for at least ten years to allow this medal winning port to reach its full potential.

Buy from our Organic Online Wine Shop today.